Nordstern (formerly CASA Group) is building a large logistics centre of some 16,000m2 at Exxit59 near Vejle. The end user will be the German transport company, Nagel-Group, which is working to optimise its energy consumption and has therefore specifically requested solutions from DAN-doors, its regular partner in Germany.
DAN-doors is a regular supplier to Nagel-Group in Germany, and it is the good experience with DAN-doors' solutions that has now led Nagel-Group to request the same door and gate solutions for the project in Vejle.
"We supply doors and gates to Nagel's logistics centres in Germany, and we have a very good working relationship with the group, " says DAN-doors' sales manager, Per Pedersen. "Nagel knows our solutions and they have good experience with our insulated High Speed doors, which can be used in cold and freezer rooms without an extra sliding door for the night hours. In logistics centres, they want doors with fast opening and closing speeds to make traffic as smooth and efficient as possible, and for cold and freezer rooms they want insulated doors to minimise energy loss. This gate combines the two. Nagel knows from their logistics centres in Germany that it is a robust and reliable door with no service or maintenance costs, and they want the same solution in their logistics centres in Denmark," says the sales manager.
Energy and sustainability on the agenda
Nagel-Group is one of the largest food logistics companies in Europe, and they are doing a lot to minimise their CO2 emissions. As a member of Lean & Green Europe, they are committed to reducing logistics-related CO2 emissions by at least 20% within five years, and they are certified in accordance with the latest standard for energy management, ISO 50001:2018.
For Nagel, it is therefore also important that the new logistics centre will support their efforts when the building is put into use and subsequently operated.
The new insulated High Speed door from DAN-doors is specifically designed to reduce energy consumption in cold storage. The door is equipped with extremely robust 10 cm thick slats that cannot absorb moisture, and it has such good insulation properties that it is fully competitive with a traditional sliding door. When the gate is closed, there is minimal cold loss, making it unnecessary to install a heavy sliding gate for night-time use.
"It is clear that it is economically attractive to buy only one unit per opening," says Per Pedersen and continues. "At the address in Vejle, certified fire doors are also to be installed, so it is not at all possible to make the combination with a light High Speed door and a night fire door, as that would require three units per opening. At the same time, the insulated High Speed door has the advantage that it is better insulated than a light High Speed door when it is closed, which it is - despite being busy - much of the time."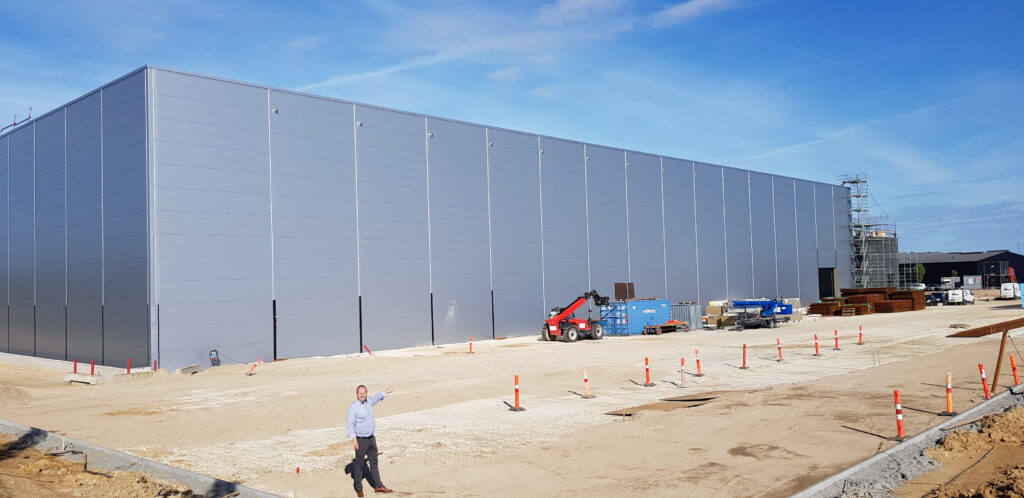 Reliable solutions mean lower service costs
DAN-doors has been developing and manufacturing door solutions for logistics centres for 40 years, and they know the industry and the challenges that can arise. Traffic in logistics centres is inherently high, and collisions happen regularly when things are going a bit too fast or when traffic is particularly concentrated.
The High Speed door, which will be delivered to the logistics centre at Exxit 59, has therefore been developed to withstand both impacts, heavy use and the wear and tear that is everyday life in logistics centres. The door leaf itself is made of sturdy slats that cannot be broken or dented, and should the door be hit, the cloth is simply pushed out of the frame legs, so that neither the door, the truck nor the driver are injured. Similarly, it is easily pushed back into the frame legs, ready to drive without the need for professional assistance.
This flexibility gives the logistics centre the peace of mind of not having to take a gate out of service in the event of a breakdown, which is both costly and inconvenient. For the logistics centre's end user, this was a contributing factor to their specific request for DAN-doors' solutions, as experience with the gate at their locations in Germany shows a significant decrease in annual repair costs.
The new logistics centre is expected to be completed in early 2023 and is part of the prestigious ExXit 59 project, which covers the entire industrial area around exit 59 near Vejle.