DAN-doors delivers highly insulated stand-alone high-speed gates for newly constructed large logistics building
---
The general contractor DS Flexhal A/S has just completed a large logistics building of 95,000 m2 for DSV near Hedehusene.
DAN-Doors has supplied all the doors and gates for the centre's freezer and cold room, and these are solutions that are packed with the latest technology on the market, are fully insulated and made of stainless steel, ensuring DSV future-proof doors of good quality that will last for many years to come.
DSV's new logistics building has just been completed in Hedehusene by the general contractor DS Flexhal A/S, and it is approximately 95,000 m2 in size. The building contains several freezer rooms and cold rooms, all of which are equipped with intelligent and stainless steel doors and gates supplied by DAN-Doors.
DSV has been supplied with high-speed doors and gates that are packed with the latest technology in the field. These are insulated stand-alone high-speed doors of premium quality, and we are proud that our good partner DS Flexhal has chosen us as supplier for the logistics building, says Per Pedersen, Sales Manager at DAN-doors.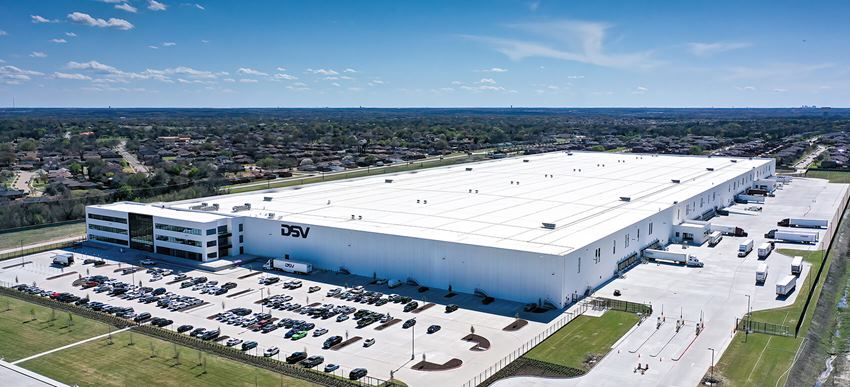 Enormous freezer and refrigerator compartments
The new logistics building contains two freezer rooms and several refrigeration rooms. All rooms are dimensioned to gigantic proportions and are equipped with state-of-the-art automatic High Speed doors with access control, smoke ventilation solutions and fire protection doors - all supplied by DAN-Doors.
High-speed ports to minus 45°
The logistics building's two huge freezers run at -25° and -45° respectively. There will be a lot of truck traffic during the day, which is one of the reasons why the freezer room is equipped with six-metre high high-speed gates, specifically designed to insulate the freezer room as much as possible.
The six-metre high speed gates have an opening speed of just four seconds, and with minus 45 degrees in a deep freezer store of this size, it is important to minimise energy loss. The doors therefore have a lightning-fast opening and closing speed, high insulation performance from an insulated 160 mm thick canvas and automatic access control - all to minimise cold loss in a busy weekday.
- The solutions DSV has chosen for its cold storage and freezer rooms deserve special mention for several reasons, says Per Pedersen. - It has been important for DSV to find solutions that make it possible to get quick access to the refrigeration and freezer rooms by truck, as this is an important part of the logistics. It was also important to get solutions that are both reliable and maintenance-free, and they get both with the gates we have delivered, says Per Pedersen.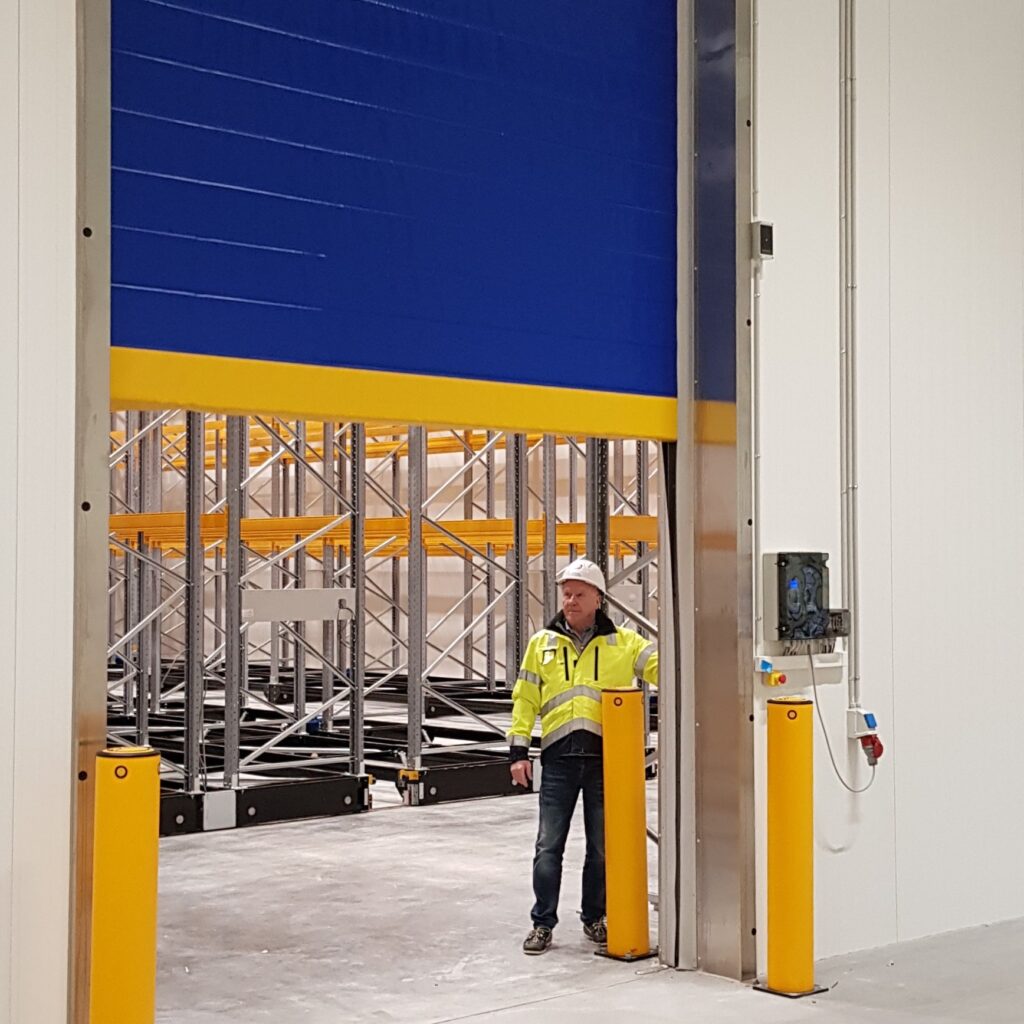 Smoke ventilation doors for cold rooms, installed at a height of 12 metres
DSV has had a strong focus on safety in the design of the new logistics building. Both the cold store and freezer rooms are equipped with smoke ventilation doors, which are located at the very top of the ceiling - i.e. at a height of 12 metres.
The smoke ventilation doors are fully automatic and connected to an ABV system, which automatically sends a fire alarm if smoke is detected.
When the smoke vent doors are opened, the smoke is directed out of the room, in the same way that the automation allows the doors to be closed when the cause of the smoke alarm is under control again. With doors at a height of 12 metres, this function is just as relevant as the opening mechanism is in the case of an alarm.
DSV's logistics building went into operation in mid-March 2022.