Get the overview with our new catalog
---
We've been excited to announce our new catalog, and now it's here.
To make it easier for our customers to get an overview of our different solutions, we have compiled them in a catalog. The catalog is 124 pages long, including 100 pages with descriptions and details of our products.
See the product catalog here
---
You can read about it in the catalog
DAN-doors' doors are complete solutions for different purposes. In the catalog, we briefly explain the rationale behind our development and production, as all our solutions are the sum of many different considerations:
Our solutions must first and foremost meet a need for our customers

As a door manufacturer, it's our responsibility to stay ahead of trends and upcoming challenges so that our solutions provide value to customers for years to come

Every single component and detail in the construction of our products is the result of advanced calculations that have calculated wear and tear and environmental impact, so our doors stand up to what they need to - and more
You can also read descriptions of our solutions and see the most important specifications in terms of sizes, materials and benefits.
---
How to use the catalog
We have many products, and to make it easier to navigate the catalog, we've included links to take you directly to the topic, product category or product you're looking for.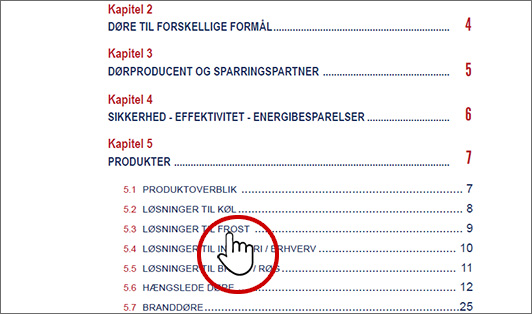 ---
We have also created lists that bring together all our solutions for chill, frost, industrial/commercial and fire. From these lists, you can also quickly click through to the different solutions: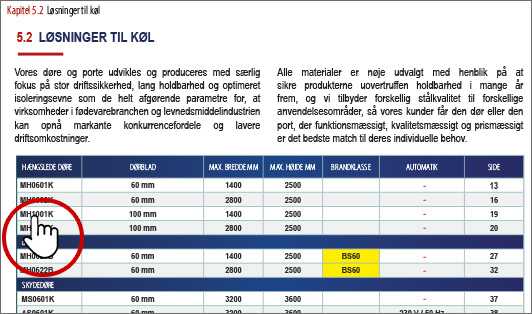 ---
You can return directly to the table of contents from any page by clicking on the page number and the text at the bottom of the page. At the same time, the product description pages have QR codes and links to the website where you can find additional documentation, including data sheets and drawings:
---
Want a physical copy?
Recipients of our newsletter can receive a physical copy of the catalog.
If you don't already receive our newsletter, you can sign up here: