For 10 years, Amdi has steadily led DAN-doors to a position as one of the world's leading door manufacturers with customers in more than 100 different countries, and this was celebrated on Friday 6 January among the company's employees with cake and high spirits.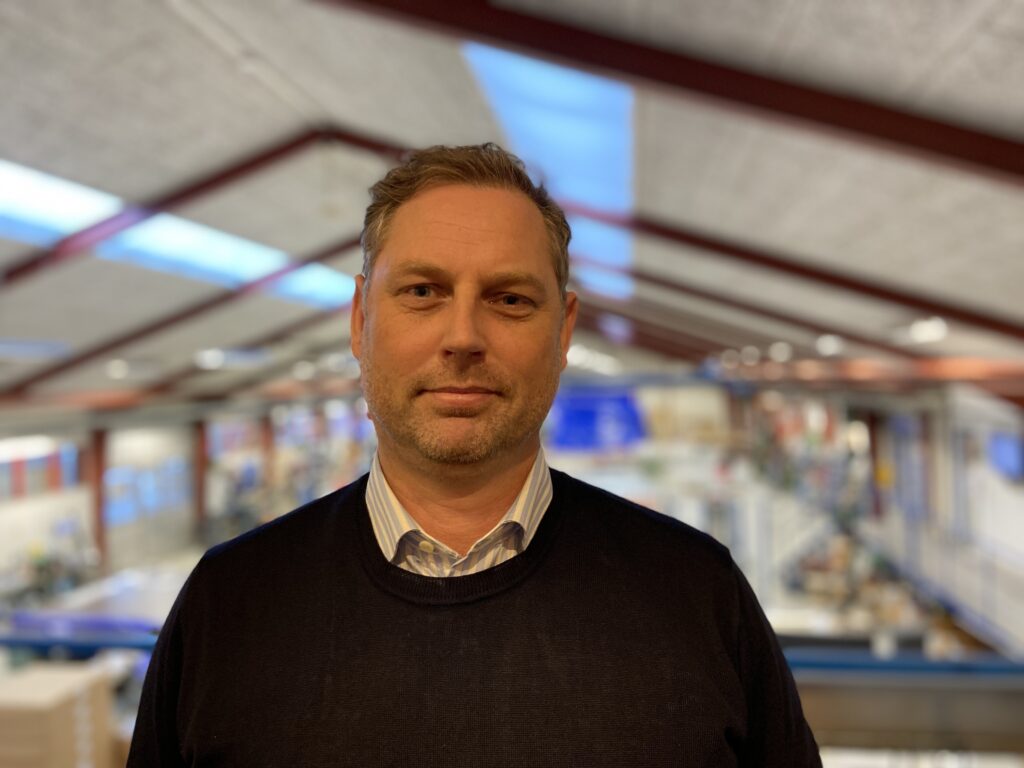 DAN-doors is known in the industry for delivering robust doors and gates of very high quality and for being a reliable and honest partner. That's a shot that doesn't come naturally. It comes from years of focus on creating synergy between all key processes - both internal and external.
When Amdi took the helm in 2015, it was with a long-term 360° plan that would put DAN-doors firmly on the world map. The strategy was based on the "good old-fashioned craftsmanship" for which DAN-doors was already known, a conservative and sensible economy where money is only spent when it is earned, trust-building and honest contact with customers at all stages, and a management style that would inspire employees to invest their knowledge and commitment in DAN-doors' future.
"Our employees are the core of our entire business," says Amdi, continuing, "many of our employees have been with the company for 10, 20 or 30 years, and it is their experience, knowledge and know-how that gives us a unique starting point to develop new solutions without falling into the traps of the door industry. A door is not just a door, and our customers know that the quality and design of a door or gate can determine whether it lasts 2 or 25 years, whether it can maintain its functionality in extreme freezing temperatures, whether it can ensure smooth traffic or hamper efficiency, etc. There are many different factors to consider in the development process and our people are key to our success."
So when DAN-doors celebrates its 40th anniversary later in 2023, it will be with a nice check mark against many of the goals set in the plan almost 10 years ago:
DAN-doors is today a healthy and well-consolidated AAA-certified company.
In recent years, investments have been made in state-of-the-art technological facilities worth millions, financed by the company's own capital.
Many new solutions have been added to the DAN-doors product portfolio, based on customer needs and developed in close dialogue with customers, including smoke ventilation, fire doors and highly insulated High Speed doors for busy cold rooms.
Customer portfolio is growing and 95% of customers are repeat customers
DAN-doors' employees have on average a very long seniority in the company, which is due to high employee satisfaction and a conscious desire among employees to stay in DAN-doors
When Amdi took over as CEO of DAN-doors and formulated his vision for the company, it was with a conscious attitude that success should not only be measured by the bottom line, but equally by job satisfaction in all corners of the company, as this will naturally lead to greater motivation, more creativity and higher productivity. As DAN-doors' employees explore new markets, develop new solutions and challenge old habits, his approach is to be open, curious and supportive, which has been key to positioning DAN-doors as one of the leading door companies in the world.
We celebrated Amdi with flags and cakes and were quick enough to get a picture of the cakes before they were gone. Congratulations to Amdi on her first 10 years in DAN-Doors.